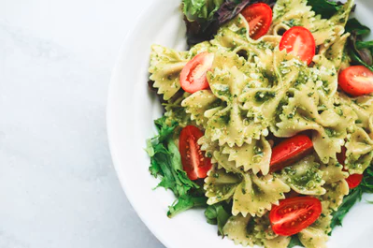 If you're like most people who enjoy summer more than any other time of year, one of your favorite things about the season is the long evenings — and you definitely want to get the most from them. You're probably not interested in spending your summer evenings in front of a stove, and hot food often simply doesn't taste right when higher seasonal temperatures are a part of the picture. Fortunately, there are many nourishing choices, such as cold pasta salad, that are just right for lighter summer palates. As an added benefit, residents of apartments in Charlotte, NC, can quickly prepare these the night before and return home the next day to enjoy a delicious meal before getting on with the evening's activities. Cold pasta salads also provide a great way to use up leftover meat, vegetables, and cheese. Following are three of the best.
Italian Pasta Salad
You'll need cooked and chilled pasta (rotini, penne or fusilli), sliced summer sausage, black olives and cherry tomatoes cut in half, chunks of mozzarella cheese, sliced red onions, fresh parsley, and your favorite Italian dressing. Toss these ingredients in a bowl, cover and refrigerate. Lightly sprinkle crumbled feta cheese over the pasta salad just prior to serving.
Easy Peasy Pasta Salad
As its name implies, this pasta salad has peas in it. Use cold, cooked fusilli, and toss the pasta in a light ranch dressing with peas, cherry tomatoes, broccoli, celery chunks, onions and any other garden vegetables you happen to have on hand. For a change of pace, use an oil-based dressing, but remember that the trick is to use a light hand with the dressing so the vegetables provide the majority of the flavor. Top with freshly shredding carrots just before serving.
Spicy Chicken Pasta Salad
You'll need cooked and cooled bow tie pasta, chicken chunks, sliced cherry tomatoes, bell pepper, green chiles and your choice of grated cheese. Toss these ingredients with just enough mayonnaise to hold it together. Sprinkle lightly with cumin just before serving.
Our resort-style apartment community features two sparkling swimming pools, a variety of floor plans and a fitness center. It's also convenient to restaurants, parks, and shopping. Please don't hesitate to contact us for more information about enjoying life in beautiful Charlotte.