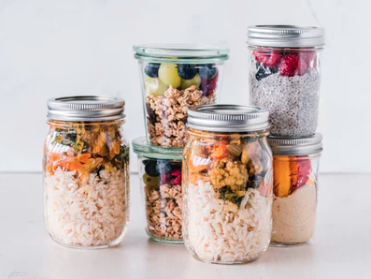 Eating well on-the-go is a challenge, but just because you are not at home doesn't mean you need to wind up in the drive-through lane of a fast food restaurant. Take one of these easy-to-prepare mason jar meals the next time you head to work and start eating healthier.
Apple and Cinnamon Pancakes
Now you can enjoy homemade pancakes any day of the week.
Combine 1/4 cup of peeled and diced apples with a 1/2 tablespoon of brown sugar, 1/4 teaspoon of ground cinnamon, and 1/8 teaspoon of ground nutmeg. Mix and set aside. Lightly oil the inside of a widemouthed microwave-safe quart mason jars. Spoon 1/4 cup of prepared pancake batter into the jar. Add half of the apple mixture Repeat with remaining ingredients. Top with a pat of butter and a drizzle of maple syrup.
Cook uncovered in the microwave for 3 minutes or until fluffy.
Greek Quinoa Bowl
Paying ten bucks for a quinoa bowl is expensive. Save money with this simple Greek version.
When it comes to creating a mason jar quinoa bowl, it is all about layering. For this Greek Quinoa bowl, begin by adding 2 tablespoons of tzatziki sauce to a quart mason jar. Follow with a 1/2 cup of canned chickpeas, then a 1/4 cup each of diced feta, tomatoes, cucumbers, red onions, and a few halved olives. Next, add a cup of cooked quinoa. Top with a 1/2 cup of your favorite greens.
Bean and Cheese Burrito in Jar
Are you craving Mexican but can't get out of the office? Then this recipe is for you.
Place 1/4 cup of corn chips in a microwave-safe quart mason jar. Follow with a 1/2 cup of refried beans, two tablespoons of chunky salsa and a thin layer of shredded cheese. Add 1/2 cup refried beans, a layer of cheese and top with more corn chips.
Microwave without lid for about a minute and a half until the cheese melts. Stir ingredients together and enjoy.
Are you looking for apartments in North Charlotte, NC? The Retreat at McAlpine Creek offers residents luxury 1, 2, and 3 bedroom apartments. Live the lifestyle you want. Call (866) 959-8693 to schedule a viewing!