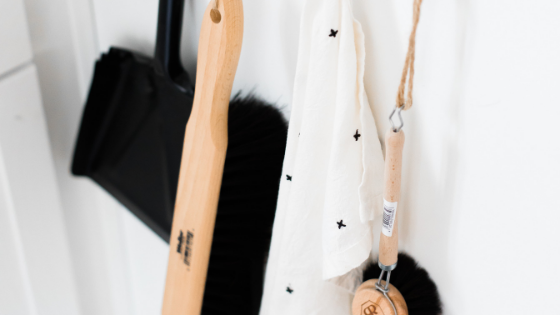 Don't get stuck inside cleaning when you can be outside enjoying the beautiful weather. These four cleaning hacks can help you keep your apartment tidy without taking up your whole day.
Save Time With These Four Cleaning Hacks
Clean your stovetop hands-free. You don't have to spend time scrubbing your cooktop. Instead, simply sprinkle the top of it with a thin layer of baking powder and moisten with just enough warm water to form a paste. Leave it alone, and when you come back about an hour later, simply wipe off the now mostly dry baking powder with a clean cloth.
Rollaway dust. Who needs a broom and dustpan or vacuum when you can use a lint roller to quickly and effortlessly get rid of dirt from your floors? Don't forget lint rollers are also the ideal tool for getting rid of those pesky crumbs hiding in cabinets. Don't have a lint roller? It's not a problem. The adhesive on packing tape works great as well.
Cut the time it takes to dry your clothes. Heading out soon, but your favorite outfit is still damp from the wash? No worries. Just toss it into the dryer with a dry towel at the start of the cycle. The dry towel will help to soak up excess moisture from the rest of the clothes, reducing the total drying time. Remember to remove the (now damp) towel 15 minutes later to get the best results.
Clean your microwave easily. Microwaving food is messy, and there is a good chance you don't clean the inside of your microwave as often as you should. Use this quick method to get it sparkling again. Combine a cup each of white vinegar and water in a microwave-safe bowl. Microwave for around five minutes. Adding a wooden spoon to the bowl will help reduce the chance of it overheating, but still be careful. Use a potholder to remove the bowl and wipe the microwave thoroughly with a clean sponge.
Are you still searching for luxury apartments in North Charlotte, NC? Resort-like amenities await you at the Retreat at McAlpine Creek. Call (866) 959-8693 to schedule a viewing a range of available layouts to suit your lifestyle.